Increase fleet Productivity
Maximize Available Capacity
Dispatch Management Software
Without a doubt Dispatch Management module is one of the most important modules of a fleet management software. A typical fleet management software consists of modules such as fleet management, vehicle tracking, waste management etc.
But we provide a state-of-the-art Dispatch Management Software for all kinds of freight forwarding & dispatch solutions due to their crucial business nature. Instead of running around all day not knowing what to do we here at fleet management handles that with our Dispatch management solution.
Benefits of Using our Dispatch Module
Optimize in Real Time
Create Business Processes with business objectives
Develop accurate Schedules using Historical data
Automate from Overrides to automated functions
Dispatch your services with mobile Apps
Optimize Schedules using real-time traffic patterns
Integration with Any Ordering System
How Our Delivery Dispatch Management Works
For already existing marketplace applications you can integrate our Delivery Dispatch Management Module onto your system effortlessly, your application can be easily integrated with our dispatch management module by the assistance of your software provider and our team. Once the integration is completed the addresses will be loaded onto the module and you can commence your day to day delivery operations without any hassle.
Our Delivery Dispatch solution has the ability to perform multiple pickup and multiple drops on a single trip. In other words a single delivery person can collect multiple orders all at once and complete the delivery all within a single trip. Our Delivery Dispatch solution is able to perform this because of our auto-optimization feature, unlike other delivery applications where the delivery boy has to complete one trip to start the next, our dispatch solution creates trips for multiple orders in a single facility. Our Dispatch solution is useful for single & bulk delivery companies
Pricing
Now Subscribe at
$3 monthly
No additional costs
We will provide APIs for integration
* If you want to use in a branding of your choice, we provide that for extra $3000(without code). The code would be managed by us, and we will provide APIs for integration
Workflow
Customer Makes an Order

Each order will be collected and considered as a "Stop" in the Web Application Back-end

System Assigns Delivery to Delivery person

Once the orders start coming into the system our algorithm automatically finds the nearest delivery personnel and assigns it to the right personnel which is optimized in terms of time , distance and capacity of vehicle to deliver

Delivery Person Receives the Trip Details & Starts the Trip

The delivery person will receive the entire trip details via their Delivery Personnel App, the trip details will be included with the number of collection/drop points all optimized to shorten the trip duration

Driver Delivers Package & Updates its Status

After the trip is commenced the delivery person can update the status of their delivery on the delivery personnel app, if the delivery has been successfully completed then he can check the delivered option if not he must check the return option. This way higher-level personnel can keep track of the entire delivering process
FEATURES
ROUTE OPTIMIZATION
With our dispatch module you can remove the daily hassles of manually routing the drivers and tasks, & ensure optimal efficiency in your day to day operations.
LIVE ETA'S & TRACKING
Keep track of your daily operations by our software & communicate with your drivers in real time and gain clear visibility into the current ETA's & many more.
DETAILED DISPATCHER DASHBOARD
With our Dispatch module comes an all in one dispatcher needs on one screen. You can identify each order and understand the most important information of the delivery. You can easily assign dispatchers on work orders efficiently.
AUTOMATED LOGISTICS
With our software you can dispatch your logistics solutions without any manual processes you will receive automated schedules and routes providing ease to your daily management process.
SEAMLESS DATA HANDLING
You can upload CSV/Excel files in bulk with complete mapping & integrate it into our system via API.
REAL TIME TRACKING
Track in real time with fleet management, get a centralized view of your processes, react and re-optimize in real time with customizable notifications.
Know our finest Delivery Dispatch Management Software in detail &
increase your operational efficiency in quick time
Download Now
Why you need a Dispatch Management Software
Increases Efficiency
Lowers Fuel Costs
Provides Service Consistency
Increases your Company's Reputation
Increases Your Sales
Increases Customer Satisfaction
Reports
Some Reports you get : -
Vehicle Running reports
Historical Movement report
Audit Reports
Maintenance Reports
User Reports
Dispatch Customer Order Report - It will show the report of how many orders done by each customer and its details.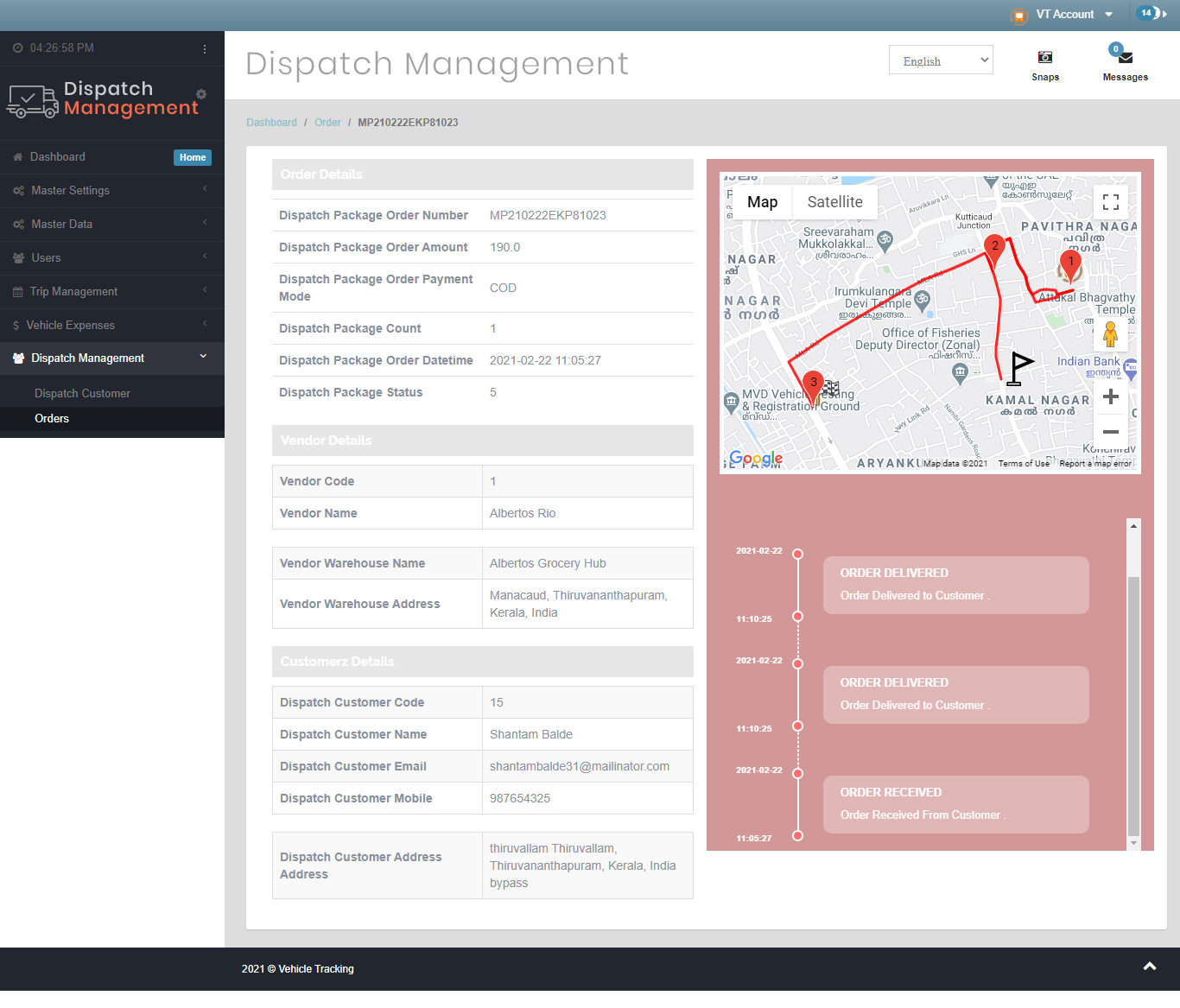 Powering On-Demand Delivery , Logistics Services & Others
Industries We Serve

Food Delivery

Courier/Parcel Delivery

Fuel/Gas Delivery

Restaurant Delivery

Appliance Delivery

Pharmaceutical Delivery

E-Commerce & Retail Delivery

Daily Needs & Grocery Delivery

Laundry Delivery

Document Delivery
Dispatch Management
Delivery App Screens
Dispatch Management
MarketPlace Integration API
Have an existing ordering system? We can easily integrate your ordering system with the Delivery Dispatch Management System.
Even if you are currently accepting orders by means of phone calls, there is facility to simply enter order details directly into the system. And the best part is this works whether you are a :
A single vendor with single warehouse
Single vendor with multiple warehouse
Multiple vendors in a specific region / city
HandShake API
In the first level of communication we pass handshaking details to connect both apps together and all order details to dispatch system.
Dispatch Management To MarketPlace APIs
In second level communication we pass all order status to marketplace application along with order tracking facility.

Frequently Asked Questions
I already have a booking system. Can your system be integrated with that?
Yes, we provide provision for integration with various systems using Integration APIs
Is there any limit to the number of vehicle and people in your system?
No, our system doesn't have any set limit for number of vehicles and users. If required, we can set limits also.
Do we need to buy additional GPS tracking hardware for tracking the vehicle using your system?
Our Delivery App takes care of dispatch and delivery tracking. So, no additional hardware is required.
I currently have a manual booking system that operates by means of calls. Does your system have provision to include this booking process as well?
Yes, we provide our marketplace solution for booking. And it can work with the delivery dispatch management software.
Can your system manage customer orders by direct calls?
Yes, the system provides you with a web interface, through which you can enter order details once and the rest will be taken care of. Once you fill details,1st step - the order gets automatically assigned, 2nd step delivery person will get notification 3rd step - dispatch and delivery -4th step - Confirmation.